25 Sep 2013 1 Comment
by jhking in Uncategorized
What's new with the baby?
During week 19, your baby measures about 6 inches long and weighs in at about 8.5 ounces. She's developing a protective coating over her skin, called vernix caseosa. It's greasy and white, and you may see some of it at her birth.
Food comparison this week is…
How am I feeling?
So, last week when I said I was ready for fall?  Well, someone must have been listening, because we got a taste of it!!  We had 2 days where the high was only in the low 80s, and all of sudden, the nights are cooling off.  It is like heaven.  Urijah and I have been taking total advantage of it, too.  We have spent a ton of time outside…playgrounds, walks, kicking the ball, and just running around like crazy.  It's been so nice.  And even today we did something very unique…we met up with some other moms and kids who like to have fun and we went stand-up paddleboarding on the lake in Austin.  It was our first time and it was a huge success!  I was able to stand up when I was by myself, and U got on the board with me and we tooled around the lake for a bit.  He did great and when I asked him if he liked it he did the sign for 'more'.  I think that's a yes.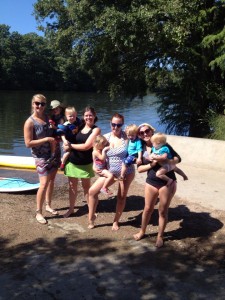 Weight gain?
I'm not checking again until my next prenatal appt on October 8th!
What do I miss?  What am I looking forward to?

Birthday celebrations!  Still.  it's going to be so fun to have family and friends around.  And Lisa and Ada are coming from Portland, and I can't wait for Ada and Urijah to get to play together and see them bond.  We get to have them here for about a week, so the cousins will have plenty of playtime.  We're going to wear those kids out!
Preparedness?
The big consignment sale is coming up at the beginning of next week, so I'm looking forward to that (I guess this could technically go under the section above and this one….).  I'm going to be able to get U some stuff for this fall and winter and the new baby will get some stuff, as well.  I'm keeping my fingers crossed for some fantastic deals on good stuff!
Highlights of the week?
Going paddleboarding was really fun…I'm so glad we tried it!  Also, on Sunday I took Urijah up to the Southwestern University campus and we ran and kicked the ball for about an hour and a half all around their big grass quad.  To see my big kid running at full speed, laughing and kicking the ball while doing it, just made me so proud.  He's getting so big and is learning so much.  I can't believe all the stuff he can do now!
Belly Pic: